As a result of working with Mike Everett and applying some of the Marketing Strategies I've learned over the past several years, we've developed several "Strategies" which are being made available to you and that work in conjunction with myDREAMware.
IBC Designed Autoresponder Series
This is an 11 e-mail series specially designed to engage people in learning about the Concept, the paradigm shift, and challenging them about their current retirement strategy.

It will customize to each Agent as a Prospect signs up and is added to the Autoresponder series, adding your name, contact information, website, and phone number to the e-mail.

Your Prospects will receive one message a day for the first 2 weeks, then they start repeating at the rate of one every 3 days (not delivered on weekends unless you request it in your profile), then every 7 days, 14 days and finally every 28 days. This puts you in front of your Prospect building relationship remotely for over 1 full year.

There is a call to action at the end of EVERY single e-mail telling them to contact you so you may run their Free Detailed Personlized Analysis.
BACK TO TOP...
Turbo Charge Your Retirement Report Code

The code is individually customized for each Agent so that the myDREAMware properly records which Agent it came from.
Simply add on eline of code to a blog or company website.
BACK TO TOP...
Free Report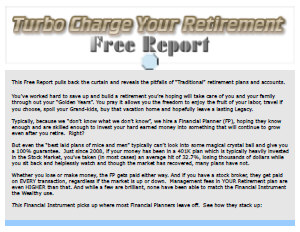 When asking for a Prospect to give you their information, it is customary to provide something of value to them in return.

That "something" in most cases is a free report, providing valuable information to help them avoid making mistakes or learn of a better way of doing what they are attempting to do.

The report we have is a side-by-side comparison between "Traditional" Retirement Plans vs. Infinite Banking Concept. I will retitle the report for you and change the last page to be your bio. All total it is 6 pages in length.


The cost for me to write a completely new report is $200 above the standard package
BACK TO TOP...
Narrated e-mails
Each e-mail in the Autoresponder series has been professionally recorded by a woman from Australia. She has done a great job and it now gives you the ability to convey the IBC principles in yet another way.

We will provide for you the code to add to your website so people can listen to them online as well as download a zip file with all 11 messages so they can listen to them on their Smart Phone, iPod, iPad, Computer, or any device that can play an mp3 file.

When you purchase this strategy, we will have her record the call to action and list your name, company, and phone number so people listening to these messages will be able to respond immediately to you.

You will also get the code for your website or blog for the "audios" page which will be coded to automatically start the e-mail message they have clicked on in the e-mail.

BACK TO TOP...
Texting Sign Up Strategy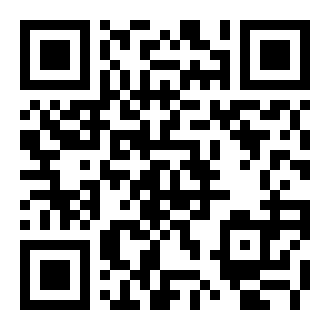 I will create an account for you and generate one (1) sign up campaign with 3 follow up text messages.

You will get your own personal code which you will select that will be used by Prospects and texted to 82-888. To see how the system works, text ibcassist to 82-888 or if your smart phone has the ability to read a Quick Response (QR) Code, simply read the code to the right, click the send SMS Text and follow the instructions/link. Complete the form and you will be receiving the Autoresponder e-mails. You can "Stop" and Opt-out of both the Text system and the e-mail Autoresponder at any time.
BACK TO TOP...
Intake Form Code

The code is individually customized for each Agent so that the myDREAMware properly records which Agent it came from.
Simply add one line of code to a blog or company website.
BACK TO TOP...
1 hour Marketing Strategy Phone Session
I will cover the basics of just what "Marketing" is and help you understand the necessity of having a well implemented marketing strategy which helps you stand out from the crowd and if designed and implemented well, will have people calling you instead of you chasing them.

You will also get my video series on marketing strategies as well as the 11 Marketing Tips for Local Business owners.
BACK TO TOP...

Marketing Strategy Complete Package: Just $1,500.00